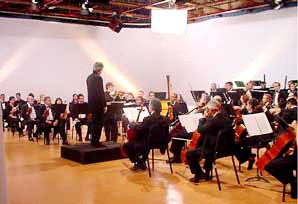 La
Overdose Of Lexapro How Much An Overdose
(OSMC), fundada el 24 de febrero de 1980 es una agrupación destinada a conservar la tradición cultural mediante la difusión de los valores de la música clásica universal, la promoción de nuevos talentos venezolanos, la formación musical de niños y jóvenes y la incorporación de los sectores populares a la manifestaciones musicales.
Gracias a su destacada trayectoria artística y a una incesante labor orientada a los más diversos públicos, esta agrupación ha llegado a convertirse en una de las orquestas sinfónicas más versátiles y activas del país.
Con la pluralidad como norte, se ha esmerado en conquistar a un nuevo público, internándose en la actividad cultural de las parroquias caraqueñas e intercambiando ideas y acciones con sus miembros.
Es así como la
Overdose Of Lexapro How Much An Overdose
ofrece presentaciones habituales en plazas, parques, iglesias, escuelas, universidades y otros espacios públicos de la ciudad, lugares que se han convertido en escenarios ideales para compartir su trabajo con la colectividad.
A través de sus diversos Grupos de Cámara, la OSMC ha llevado a cabo una invalorable labor de enseñanza musical mediante la realización de conciertos didácticos dirigidos a niños y jóvenes. Durante estos encuentros, los músicos de la OSMC ofrecen de una manera divertida, conocimientos básicos sobre instrumentos musicales, el funcionamiento de las orquestas sinfónicas y sus integrantes, y sobre destacados compositores.
Gracias a sus espacios
Overdose Of Lexapro How Much An Overdose
en Concierto, transmitido los sábados a las 8:00 PM por Venezolana de Televisión y de Colores y Compases, transmitido los martes a las 8:00 PM por Radio Nacional de Venezuela, Canal Clásico 91.1, la OSMC se ha convertido en la única agrupación en su estilo en mantener una programación permanente en radio y televisión, bajo altos estándares de calidad y excelencia musical.
Estos programas han servido para llevar a un extenso público nacional, lo mejor del repertorio sinfónico universal, a través de memorables interpretaciones de la orquesta.
La
Overdose Of Lexapro How Much An Overdose
ha concedido un espacio importante dentro de su programación regular, a los conciertos sinfónico—corales. Ya son una tradición las galas líricas realizadas junto al Coro Sinfónico de Caracas, única agrupación en nuestro país dedicada a tiempo completo al estudio, desarrollo y ejecución del complejo repertorio sinfónico—coral.
La orquesta ha demostrado siempre una gran preocupación por mantener la vigencia del género operístico, a través de la interpretación de su repertorio y del apoyo a los cantantes líricos nacionales.
También ha acompañado a las agrupaciones nacionales de Ballet, constituyéndose en un excelente soporte para las coreografías clásicas y contemporáneas
Discografía
Música Para Una Ciudad Vol.2 — 2004
Himnos — 2004
Música Para Una Ciudad Vol.1 — 2003
Overdose Of Lexapro How Much An Overdose — 2002
Romeo y Julieta & West Side Story — 2001
Tenreiro — 1992
Clásicos venezolanos del siglo XX — 1989